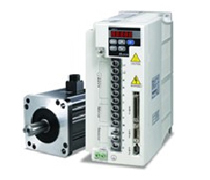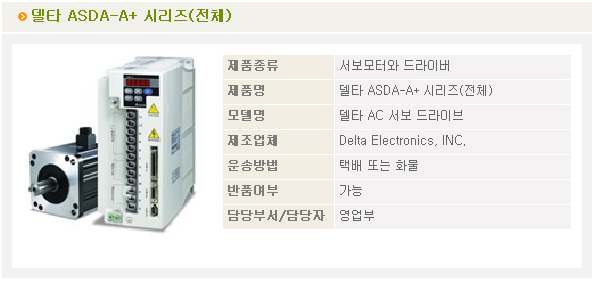 제품용도 :
Advanced AC Servo Drive for General Purpose Applications (Middle-power)
제품특징 :
‧ASDA-A+ series servo drives are available from 4.5kW, 5.5kW, and 7.5kW.
‧All ASDA-A+ series models are provided with the input power of three-phase AC 220V.
‧Encoder resolution is 20 bits (1280000 PPR).
‧ECMA series servo motors are available from 3kW, 4.5kW, 5.5kW, and 7.5kW.
‧The rotor inertia of all servo motors are Medium / High Inertia (54.95E-4 kg.m2~ 142.7E-4 kg.m2).
‧Built-in easy-to-use motion control modes: move to "Homing", feed step control (control of cutting), internal auto-running, etc. control modes.
‧Provide high-speed pulse input function, which can be used with Delta PLC product - DVP20PM, for 2-axis synchronous control and circular interpolation and so on such kinds of precise control applications.
‧Support Modbus communication protocol (ASCII & RTU) and communication interface (RS-485 & RS-422 & RS-232).
‧ASDA-A+ series servo drives have built-in matching motor selection function.
‧CE, UL, cUL, C-tick approvals recognized.
제품설명 :
ASDA-A+ series is a new type of advanced AC servo system which combines new ASDA-A+ series servo drives and ECMA series servo motors for general purpose applications. The encoder resolution is enhanced to 20 bits (1280000 p/rev) and the power range of ASDA-A+ series is from 3kW up to 7.5kW, which can provide high torque output (19.1 N.M ~ 47.74 N.M) with increased performance and support large mechanical loads. Using Delta ASDA series products can satisfy your customer''''''''''''''''s needs and meet the requirements of a wide range of industrial applications.